Rental prices surge upwards in London as renters return to the capital
December 23, 2021
Rental price growth in London commuter belt cities and towns have outperformed villages and rural areas over the past year, according to the latest quarterly rental price indices from Savills, as lockdown rental trends continue to reverse.
The latest data from the company reveals that rents in commuter belt cities are up 8.9%, while in towns they have increased by 8.5%.
Meanwhile, villages and rural areas have seen growth of 7.4% and 6.7% respectively.
With more people returning to cities, prime London rental values experienced their strongest quarterly growth since June 2010 – up 6.6% on the year. This in part was led by the recovery of London's flat market, which saw growth reach 4.1% in Q4 2021 versus 2.2% for houses in the capital.
However, houses are still outperforming on an annual basis, up 6.2%, compared with an increase of 7.1%, and are up 5.4% since the start of the pandemic – versus 1.3% fall for flats.
"The last three months of 2021 have been characterised by rental recovery in urban areas, as tenants who favoured more rural locations during the pandemic headed back to towns and cities in response to the easing of Coronavirus measures. This was further boosted by the return of international students and corporate relocators, all focused on proximity to places of study, work and transport links," says Jessica Tomlinson, research analyst at Savills.
"While the outlook for the start of 2022 is looking increasingly unpredictable as a result of renewed Covid-19 uncertainty, and the potential for new restrictions, our latest data shows just how quickly urban markets can bounce back as lockdown measures are eased and international travel opens up.  We'd therefore expect any slowdown to be short-lived."
Table 1: Rental Movements Q4 2021 
Quarterly
Annual
Since March 2020
Houses
Flats
Houses
Flats
Houses
Flats
Prime London
+2.2%
+4.1%
+7.1%
+6.2%
+5.4%
-1.3%
Prime Commuter belt
+2.0%
+2.0%
+8.5%
+6.4%
+11.2%
+7.9%
Source: Savills prime lettings indices, Q4 2021
London living returns
Increased demand in London from corporate relocators, students and young professionals, has caused upward pressure on prices, particularly in North and East London. Rental values here are up 6.4% on the quarter and 9% on an annual basis. Specifically, rental prices in Canary Wharf have increased by 12%, following successive periods of negative growth since the start of the pandemic, which leaves them only 2.5% above their pre-pandemic level.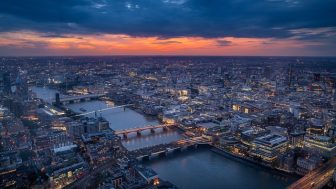 A trend that emerged in recent months is parents of international students making high bids to ensure they secure accommodation for their children, which has increased competitiveness across London.
Following a bounce-back in demand, now 95% of Savills London agents are reporting a decreased amount of stock on the market, with the majority not expecting this to change early next year. As a result, the pendulum is swinging back in favour of landlords, as London agents agree that both landlords (85%) and tenants (55%) have increased rental expectations.
Prime commuter belt rental values
While quarterly rental growth across the commuter belt accelerated o +2.0%, a severe lack of appropriate rental stock has pushed up rental prices in family house markets such as Weybridge and Cobham. However, agents broadly agree that stock is likely to increase in the first three months of next year (76%) which should release some pressure on prices.
At the same time, a lack of stock for sale across the board has also meant that a majority of agents are reporting more tenant demand from those testing a new market before buying (60%) and those who have so far been unable to buy in their chosen area (57%).